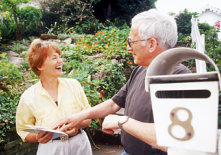 Investments & Retirement
Flanagan State Bank, through its affiliation with CAPS Financial Group, offers you services that will allow you to make the most of your money. CAPS services are provided on a fee-only basis. Fee-only means there are no commissions or sales charges and, therefore, none of the conflicts of interest that are prevalent throughout the financial services industry. You should be paying an advisor to do what is best for you, not what is best for the advisor or the company they work for. There are never any commissions or sales charges; CAPS does not use loaded mutual funds that pay 12b-1 fees or hidden incentives.
CAPS Offers Three Services
Investment Management

Financial Planning

Business Retirement Plans
Personal Investment Management
CAPS will manage your portfolio for you (minimum $100,000), so you don't have to worry about making investment decisions. Many people find that they are too busy or they lack the training and experience to effectively handle their investments. CAPS builds and manages one or more portfolios specifically designed to meet your goals. These portfolios primarily utilize exchange traded funds. Instead of paying commissions to a broker or spending money on mutual fund expenses that often exceed 2.0%, CAPS charges a fee based on 1.0% of your assets.
Account Examples:
IRAs

Rollover IRAs

529 College Savings

Open Accounts

Trust Accounts
Financial Planning
Need to get organized and on track? Worried about reaching key life goals? A financial plan is the best way to get objective advice on how to reach your goals. It is important to get advice in this area from someone who isn't trying to sell you something.
Business Retirement Plans
CAPS' president, Matthew Schwerin, was responsible for a $900 million retirement plan for a Fortune 300 corporation. Matthew knows how to set up a plan that will help you and your employees have a more secure future. A CAPS-designed retirement plan (401(K), profit sharing, SEP-IRA, KEOGH, IRA, etc.) will likely cost less and have more investment options that make sense.
Many business owners don't know what they are paying for their 401(K) plan. Many companies today are facing increased scrutiny from governmental agencies due to inattention by business owners and abuses by retirement plan service providers. CAPS works with third party administrators that provide the features employees want in managing their retirement funds.
Account Examples:
401(K)

Profit Sharing

403(b)

SEP IRAs

Simple IRAs
Fee-only vs. Commission-based
Fee-only advisors do not collect any commissions from the products they use. The only form of compensation a fee-only advisor collects is from fully-disclosed client fees. This type of service allows the advisor to use the investment vehicle that best fits a client's needs, not what pays a hefty commission.
Commission-based advisors collect money from the companies whose products they sell. This is why you can never tell how much you are paying this type of advisor. It's usually a big secret. This produces a conflict of interest and it promotes a transaction-oriented approach. The client's goal and the advisor's goal are in direct conflict.
Experience and Credentials
Matthew Schwerin is a CFA charterholder. There are a number of reputable credentials for financial professionals, but none is as rigorously focused on investment knowledge as the CFA designation. For more information, visit www.cfainstitute.org.
Matthew was responsible for overseeing investment managers for a $900 million retirement plan. In that role, he had access to the best and brightest investment managers and consultants in the country. He quickly saw what worked and didn't work in investment management. He can apply this experience to your situation. He has also worked in corporate finance evaluating and managing million dollar projects and budgets. Prior to that, he worked in the mutual fund industry for a private investment firm.
Matthew received his B.S. degree in Finance and Economics from Elmhurst College in 1987 and his Masters of Business Administration from Illinois State University in 1996. He worked for a mutual fund company and two Fortune 500 corporations before founding CAPS Financial Group in 2005.
For more information, visit CAPS Financial Group's website at www.caps-financial.com.
CAPS President, Matthew Schwerin
E-mail: mschwerin@nsinvest.com
Bloomington: (309) 661-6333
Glen Ellyn: (630) 247-0033
Matthew Schwerin has 21 years of investment and corporate finance experience. Matthew grew up in Flanagan, Illinois and graduated Elmhurst College with a double major in Finance and Economics. After spending time with an investment firm from New York and as a financial analyst with EDS in Dallas, Texas, he joined GROWMARK, Inc. in 1994 in Bloomington, Illinois as a financial analyst. He earned his Masters of Business Administration in 1996 from Illinois State University.
In 1996, Matthew joined W.W. Grainger, Inc. in Lake Forest, Illinois. In his 9 years with Grainger, he supervised investments for Grainger's $900 million retirement plan as well as holding Financial Manager and Director of Finance positions. Matthew is also a CFA charterholder and a member of the CFA Society of Chicago (for more information, visit www.cfainstitute.org).
Matthew started CAPS Financial Group in 2005 and performs fee-only investment advisory services for individuals and businesses. He serves on the Board of Directors of Flanagan State Bank and Hometown Financial Group, Inc. Matthew has two children, Colin and Morgan, and currently resides in Wheaton, Illinois.
*Investment Advisory Services offered by CAPS and North Star Investment Management Corporation. CAPS and North Star Investment Management Corporation are not banks and are not affiliated with Flanagan State Bank. Investments are not FDIC Insured, contain no bank guarantee, and may lose value.
Road Runners Travel Club
Flanagan State Bank wishes you a happy retirement and welcomes you to check out our Road Runners Travel Club. The club features banking benefits partnered with travel opportunities for the 50+ age group. Each year of Road Runners is filled with exciting new adventures! Our travel coordinators strive to provide you with group travel experiences full of fun, sightseeing, shopping, good eating, live music, entertainment, and much more! Since the inception of the Road Runners Program at our Flanagan Branch in 1996, members have enjoyed: Broadway plays, musicals, river boat cruises, botanical gardens, horse racing, mystery trips, fishing excursions, festivals, major league ball games, musical performances, and much more!