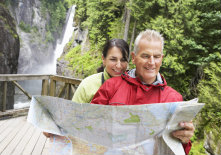 Road Runners Travel Club
Flanagan State Bank's Road Runners Travel Club features banking benefits partnered with travel opportunities for the 50+ age group. Each year of Road Runners is filled with exciting new adventures! Our travel coordinators strive to provide you with group travel experiences full of fun, sightseeing, shopping, good eating, live music, entertainment, and much more!
Since the inception of our Road Runner Program at our Flanagan Branch in 1996, members have enjoyed: Broadway plays, musicals, river boat cruises, botanical gardens, horse racing, mystery trips, fishing excursions, festivals, major league ballgames, and musical performances. Some of our extended trips include visits to: New England, South Carolina, Georgia, Kentucky, Washington D.C., Branson, Door County, Battle Creek, Frankenmuth, and Niagara Falls. We are sure you will find a trip that is just right for you!
Click here to read the 2019 Road Runner Newsletter.
Interested in our Northern National Parks Tour? This trip is scheduled for August 5 - 12, 2019 and will feature Yellowstone National Park and Grand Teton National Park. Trip Highlights will include: Salt Lake City • Jackson Hole • Yellowstone National Park • Old Faithful • Grand Teton National Park • Park City. Over the eight day trip you'll enjoy 10 meals--seven breakfasts and three dinners. We have limited seats still available, so stop in or call Marsha Pokarney at (309) 747-3600 or Jane Marshall at (309) 394-2785 to make your reservation.
Benefits
Group travel and entertainment

Free Checking Account

Free checks, with exception of duplicates.

Free debit card(s)

Free online banking bill pay, plus free mobile banking

Free funds transfers

Free money orders

Free notary services

Free photocopying services

Direct deposit for social security, dividends, pension, and interest
Requirements
There are no annual dues to pay, you simply must:
Be 50 years old or better
Have a Checking or NOW Account, plus one OR more of the following relationships with FSB:
Money Market or Savings Account

Certificate of Deposit

Safety Deposit Box

IRA or Roth IRA

OR at least $25,000 in total deposits
2019 Trips/Events
Sunday, March 10, Mystery Trip -- Somewhere in the State of Illinois!
Friday, May 31, Grumpy Old Men the Musical -- Circa 21 Playhouse, Rock Island, IL
Wednesday, July 17, Newsies, The Musical -- Theatre On The Square, Sullivan, IL
Tuesday, July 30, Northern National Parks Pre-Departure Informational Meeting -- Flanagan State Bank Community Room in Gridley at 5:00 PM
August 5 – 12, 2019 -- Northern National Parks / Fly and Tour
October 21 - 26, 2019 -- Scenic Smokies Getaway
Monday, December 9, Kenny & Dolly Christmas Tribute -- Starved Rock Lodge, Utica, IL
Click here to see the full list of all of the amazing past Road Runner Trips (1996-2016).
Photos
Click on the year to see photos from some of our past trips.
Open Houses
All members and anyone interested in learning more about Road Runners are welcome to attend our Open Houses. Join us for fun gatherings, with games, bank topics, fellowship, refreshments--and possibly even Bingo! Our Open House schedule will run on a similar schedule as in 2018, with quarterly meetings at different branches. Open Houses run 9:00-11:00 a.m. unless specified.
FIRST QUARTER:
• Tuesday, February 12, 2019 in Flanagan
• Wednesday, February 13, 2019 in Bloomington
SECOND QUARTER:
• Tuesday, May 14, 2019 in Gridley
• Wednesday, May 15, 2019 in Bloomington
THIRD QUARTER:
• Tuesday, September 10, 2019 in Flanagan
• Wednesday, September 11, 2019 in Bloomington
FOURTH QUARTER:
• Tuesday, November 12, 2019 in Gridley
• Wednesday, November 13, 2019 in Bloomington
Click here to see the full list of our branch locations.
Testimonials
"The Southern trip was wonderful, thanks to Marsha and Jane. I know a lot of planning goes into each trip and it's appreciated. Thank you. We are so lucky to have a caring bank."
"Thank you so much for a very fun-filled trip to Indiana -- I had a great time!"
"We feel that we are very fortunate to have Flanagan State Bank in our small community. Your family has been with us through our whole married life. Whether it was buying our first home, our first new car, or our first farm grounds you were always there to support us. You always said, 'Find what you want and let us know how much money you need.' When people we knew were worried about their money, we always felt safe with our choice in banks."
"What can we say about those Road Runner trips? We feel as though we have been welcomed into the family and we haven't stopped laughing since. Marsha has always been there for us; you couldn't have picked a better person to plan the trips, she is wonderful!"
"A big THANK YOU to you for letting all your employees see that the customers still come first and that their opinions still matter to you. Flanagan State Bank will always be #1 in our book. Thanks to you for still doing some things the old-fashioned way."
"I am looking forward to the fall trip to Branson. Your trips are always well-planned and so educational. We see so much in such a short time. All of you are to be commended for all the hard work that goes into the planning!"
"The bank trips are our only trips of the year and we love each one of them."
"We are coming off a 'high' after that wonderful trip to New England. Everything was so enjoyable and made for a wonderful vacation experience."
"Thank you again for the wonderful time I had on our trip to Branson. You girls worked so hard, I can't wait to go back. Thanks too for taking such good care of me, I love you for that."
"We enjoyed the trip to Branson so much – had to send you a note to let you know. Marsha and Jane did an excellent job in leading us and making sure we were having fun! The days were well planned and they made good choices on the shows. The bus drivers need compliments too. No complaints!"
"Thanks for the trip, we are ready for the next one!"